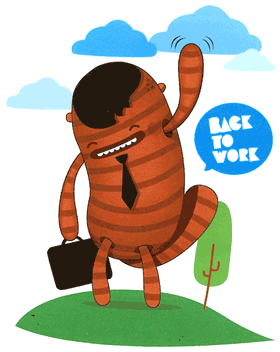 You always experience feelings when you return to work after being away for a week. Whether anxiety, dread, excitement, clarity, fatigue, surprise, etc. you are feeling something. Typically I feel anxious and the feeling of overwhelm can be gigantic–but not this time. I feel different than usual in a way that I have yet to fully understand. It's not anxiety, it's a calm. What I do know is that something is different and I need to get back to work.
You always have a good vacation when you actually vacate. This means not working over vacation. No checking email. No replying to text messages and voicemails. I took this to heart for the first time in a long while.
I spent a week away from routine, a week away from ruts.
I stayed offline
I ignored my cellphone (except non-work)
I slept
I ate and drank well
I hiked
I went sledding
I built a snowman
I spent time with my wife
I went skiing with my kids
I had a snowball fight with them too
I cooked
I read and listened to audio books
I watched the beginning of "March Madness"
Now I'll be honest. I did have my moments during the week where I was in a psychological slump, but I would attribute that to my brain unwinding from the routine. On the day of my actual return back home I drove the whole way. Gave me time to listen to an audiobook called Rework
that caused me to reconsider many things that I have been brooding over for quite some time.
I can't make every web idea I have come to life
It's OK to stop working at 5 o'clock
People will not die if I don't get a task done right away
Things can wait
Everything is not very important
Worrying solves nothing
There is enough time to get it done, but I need to prioritize
Turn off distractions (yes that means you Twitter, Facebook, iPhone)
Rest and time away from working is essential
Be grateful
I'm happy to say that I am more relaxed returning  to work this week, and for that fact alone I am extremely grateful. Needless to say I am changing a few things.