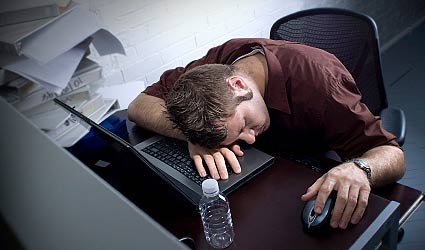 I have been in a slump as of late.
I have been busy and working (thank goodness in light of economic uncertainties). However, I have not taken time off in what is approaching a year. Feeling the burnout? Mmm... yeah maybe a touch. I have been here in this space before—to pre-burnout, then burnout and back that is—a few times. Sometimes I drive myself mad with the incessant desire to keep going, do a little bit more, forgo taking care of myself, and for what? Some imaginary idyllic computing nirvana where all my random downloads are in the trash, my email in-box is empty, and there is not an errant file sitting on my desktop? Did I just hear someone say "pipe dream?"
This 'nirvana' may be possible. But to think turning into 'Jabba the Hut' eating crap food and sitting in front of the keyboard for endless hours trying to achieve it? For what? I'm the only person that sees what is on my desktop. What kind of satisfaction do I think, that by doing this, it will somehow massage my pineal gland and make me feel complete? I enjoy working on the computer, but at what cost?
Sir? "Put down the mouse and step away from the computer."
In this era of information overload, rss feeds, social media, email, it is easy to get sucked in if your job is to sit in front of a computer doing any type of job. What is worse is if you have a propensity to be a work-a-holic (ahem), and your career as a digital gun-for-hire also happens to be your hobby as well.
I've been reminded of late that at the end of my life I will not want more time on the computer. I will not think about how "I wish I had cleaned my desktop of all those files..." Or will I think "Gee, if I only got that email inbox to zero..." I will think of the people that mean the most to me, of the places I have travelled to and the things that I have seen. I highly doubt I will think of a YouTube, Facebook, Twitter, or Flickr (unless its pictures of my kids 🙂
So this is a little "note to self" posted on the Interwebz...
Put down the mouse, turn off the monitor, get up, go outside, and do something with other people. Do something other than compute.
OK, that was a bit theraputic. Now back to my email…