I was having a discussion yesterday about the specifics of what I do for a living. I typically give very generic answers as I think most people don't really care they are just trying to create polite conversation. However this time the person I was speaking with was genuinely curious and was digging deeper with more questions.
Explaining the intricate details of web design and web development to the laymen can be an interesting exercise. Anytime I try to explain something I know intimately, I have the best success using metaphors.
In my conversation I mentioned that I use Thesis to help develop websites. I had to think of a way to explain how Thesis works. For the uninitiated, Thesis is a WordPress template framework. WordPress is a free and open source blog publishing application. What I was trying to explain is how Thesis works with WordPress and what you the visitor experiences on screen.
My metaphor for this is the peanut M&M.
The core of a peanut M&M is solid, stable mass. WordPress is a solid, stable mass.
On the outside–what the world sees–is the candy shell. You, the visitor, see and experience the candy shell. If you never crack the shell you never see what is inside and for 99.9% of website visitors they never see inside the shell.
Designer's can change the appearance and color of the candy shell to suit anyone's needs. But to bind the beautiful candy shell to the peanut you need something in between, the chocolate. Just as with any design applied to WordPress you need something in between, a template framework, and for me its Thesis.
The chocolate is the sweet, creamy goodness that binds the peanut to the candy shell. The chocolate is consistent time and time again. Thesis is the chocolate. (and to carry the Metaphor one more level does this make @pearsonified Willy Wonka or an Oompa Loompa?)
OR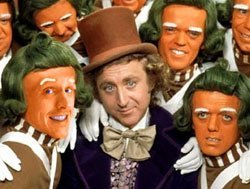 So when I used this metaphor to explain how I use Thesis to design and develop with WordPress the light bulb went off. They "got it" immediately.
So if you design and develop with Thesis and WordPress and in the course of conversation someone asks you "what do you do?" you can share with them this timeless metaphor of how Thesis is like a peanut M&M.
Hope this helps.