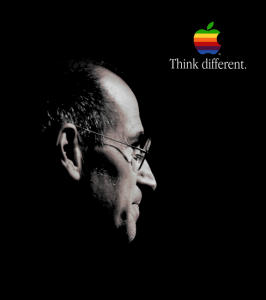 There is nothing I can say that someone, somewhere will say much more eloquently and succinctly about the life and times of Steven Paul Jobs.
Love him or hate him, the man was simply a genius.
I think everyone who knew of him and his health knew the end was coming. Particularly after his recent resignation from running Apple.
However, is still leaves me sad that he is gone.
The news of his passing acted like a wakeup call to me.
I've had my head buried in the sand for quite some time. Suffice it to say that I've not been very motivated, as if in a long state of burn-out, slump, or "creative block" and its been going on for a while.
This news woke me up.
It's time to Think Different and get back in gear.
So thank you to Steve Jobs for his contribution to the advancement of technology and for helping people take notice of the importance and impact of design. Thanks for making great products I use everyday like the MacBookPro I am typing this on, and for the Apple IIe I used 29 years ago.
Thank you for your inspiration.
Thank you for your creativity.
Thank you for your contribution.
Thank you for "one more thing..."