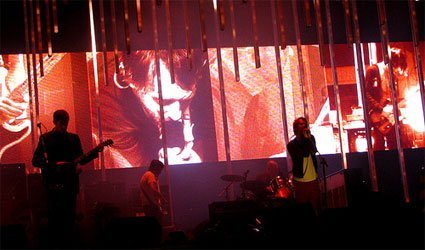 Now that I am a father of 3, married, and a business owner life is busy—and a very good busy. However, when I was younger I was an avid concertgoer. The list of artists I have seen live is long. Now that I am in a different phase in life the opportunities to attend concerts are far and few between. It's an issue of value. Is a group worth the time, effort, and money to see?
The case last night was a solid Yes! I was lucky enough to see Radiohead at sold-out Hollywood Bowl show. I must say that the experience overall was first rate. Radiohead's ability to recreate their very layered and textured studio music in a live venue is unsurpassed. Aside from the excellent musicianship the staging and lighting were remarkable. The use of LCD lighting in combination with multiple fixed cameras showing different angles of each band member was very simple yet highly effective. The light show was one of the best I have seen.
Overall it was a truly special evening of entertainment for me. Radiohead are a group that I really enjoy listening to and to see them live was wonderful.
If you happen to be a fan of Radiohead you can see the set list here.
When they return for another tour I will be looking for a ticket.