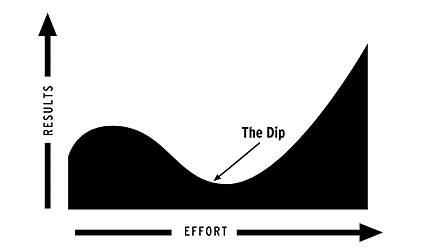 I just completed reading Seth Godin's, "The Dip." An interesting little read that presented mostly things that I already knew in various pieces from a variety of sources. However, it is all distilled into a simple, quick, and easy read.
What I got out of this book was some clarity. I suspected I was in a dip and reading this helped bring that into focus. I am in a dip with my business. My business is in a state of stagnation. That is the best I can describe it. It's not dieing, but its not growing either. The level of work with my business could be sustained, for what feels like, almost indefinitely. How can that be bad? I have work, I am making money, but I am not happy with how things are. I know there is potential for more. This business has not reached its potential.
After reading "The Dip" I actually contemplated disassembling my business–quitting it. In the book there are many suggestions about quitting, and the process of why to quit something. There is a purpose to quitting. It is to free you up to focuses energy on getting through the dips that matter. Of course part of the process is identifying what matters, but that was easy–at least for me.
There are other outside factors I will not get into, but suffice it to say that the alternative to being an entrepreneur (going back to punching the clock for a paycheck) was seriously considered for a bit. However, in the thinking surrounding this one thing became clear when I read the sentence, "Never quit something with great long term potential just because of the stress of the moment."
That sentence summed it up for me. There is great potential in owning a business. There is great stress owning a business–stress of the moment. Furthermore, I realized that there are things I have not done or tried with my business. To quit before at least trying would create a great deal of regret later down the road. So now I have a better perspective, a plan for action, someone to motivate me and keep me on track, and a timeframe by which to measure the efforts.
For now I will stick rather than quit.