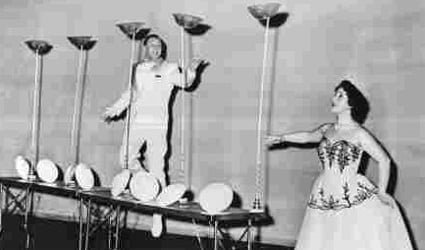 This is a place I have found myself on more than one occasion.
Being a husband, father (of 3, ages 7 and under), and owner of a small business I have on more than one occasion found myself unable to keep up on all fronts à  la the 'plate spinner.' You know you've seen what I am referring to, the performer who has a stack of 20 or so plates with a pile of long, thin sticks as pictured above. One by one the performer takes a plate puts it atop the stick and begins to spin the stick and balances the plates on top.
The key is to keep the plate spinning, or crash!–no more plate. This is what life can feel like for me much of the time, a plate spinner trying to keep everything going and avoiding the crash. Everyone has their limits and sometimes you need to experiment to see just how many plates you can keep spinning. Over time your ability to spin more plates increases and you get more confident. But, alas, all good things come to an end.
When you are spinning many plates for a long period of time you find you need a break. You cannot keep this up forever and sometimes you need to let a few things crash and come back later to clean up the aftermath. I recently read a great blog post about this exact process at WebWorkerDaily. What should you do after you have let all the plates crash to the ground?
I found it to be a sensible approach towards getting all your plates up and spinning again.
Have to go… a plate needs a spin!