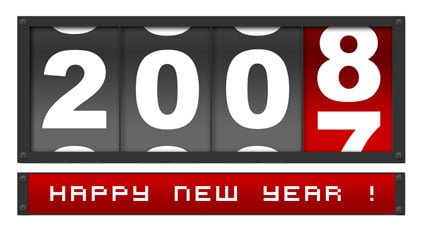 2007 was a professionally prosperous and personally challenging year. I am glad it is about to go into the history books.
In business I learned a great deal about attention, focus, and negotiation. I made more money than I have any other year. I worked more hours on projects AND on non-billable projects. I learned that one should never compromise but rather negotiate–never settle for less than is fair. Get paid what you are worth. If you feel you are not getting a fair deal, get out. Don't settle for less than what your time and effort is worth–you end up with bad vibes. I learned that when working on projects it's imperative to keep people informed. Don't let projects escalate and change outside of scope without a change order. Don't think, "its just a little thing" because that will turn into a monster. I learned you can never ask too many questions, ever. I learned to make better, more informed choices. I learned that I need adequate time to create great work. I learned that I can get through a tough spot. I learned so much more than I can list here. Suffice it to say that I got more out of 2007 in terms of business knowledge and experience than any time before.
While in the midst of 2007 it sometimes it felt like hell I am glad to have had the experience. Here is to entering a new year with a whole new set of wisdom to reflect upon.