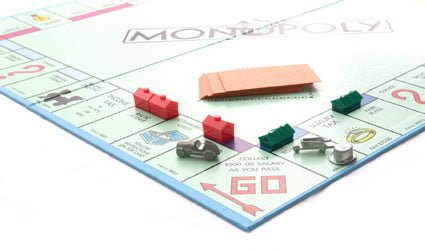 Yes. Using money in your PayPal account can and does feel like playing with Monopoly money. For those of you who have done enough online transactions to take the dip and get a PayPal account you will know what I mean.
If you have a PayPal account setup to you allow people to pay you for products or services–a 'merchant' account–you may have at one point actually received money into your account. This has happened for me a few times with a few clients of mine. It is a great service to me and to my clients. PayPal takes a little something–but hey they have to cover their costs–I understand.
Where the Monopoly money concept comes into play is when you spend the money you have in your PayPal account. For example, you go to another e-commerce website and they take PayPal as a payment method. You jump through the appropriate hoops and voila! You have paid for your transaction. The feeling is different than credit cards because they come back to remind you that you still owe. It's different than cash because your pockets get lighter. It feels like pretend money. You received the money, but never really 'had it' in your hands. And it does feel a bit different than direct deposit too because you could walk into the bank and make a withdrawl, or hit the ATM. There is no PayPal ATM (hey wait a minute, that would be cool).
Unlike Monopoly money–which can only buy you plastic houses–PayPal money, if you have enough, could buy you a real house. Now if I could just stop the impulse e-commerce purchases…